Experience of the Breath and Restorative Practice Retreat
A student's experience of attending the Breath and Restorative Practice Workshop at Amritapuri, India with Retreat Leader Brahmacharini Shobana.
I arrived at in Amritapuri two days before attending the Breath and Restorative Practice Retreat. Before signing up for it I wasn't at all interested in the 'Breathe' part of it! I was attracted by the restorative bit. I thought it would help me to recover from the long journey and jet lag. I didn't realize at the time that learning and practicing breathing techniques would manifest some wonderful results, almost immediately! The wonderful energy in this ashram quickly brings to life in a real and direct way precious learning from Amrita Yoga retreats!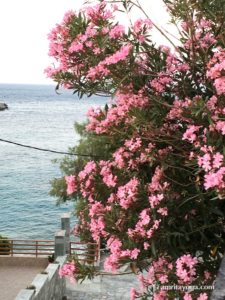 By the end of day one I was feeling much more present, relaxed and integrated. This made the transition to the new culture and climate much smoother. Whilst practicing the exercises between sessions they also unexpectedly removed a stress headache I'd developed. It just faded away in minutes.
I appreciated learning more about breath in general and becoming more mindful of how it operates in my body. Simple yogic breathing developed my awareness of capacity, location , duration , quality and impact of my breath. As a singer I noticed I sang with more ease and more joyfully from the heart following the class. The breathe work helped me to access a deep part of myself that I was able to express in my singing and meditation.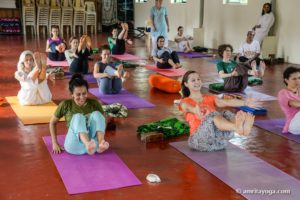 Finally, a real joy for me was exploring how this practice relates to teachings from ancient scriptures, with examples from Amma's life. It was thrilling to learn cosmic knowledge, and know that this knowledge is our true destiny. Guided throughout the retreat by such a dedicated experienced practitioner inspired me to feel that we too can reveal these ancient truths to ourselves through our practice.
By the end of day one I was feeling much more present, relaxed and integrated.
I am pleased to know from direct experience how breathing techniques can nurture our physical, emotional, mental and spiritual well-being, in simple and profound ways. Such a gift.
Jane
As always, thoughtful comments are invited and appreciated. Share your reflections with us! See below to leave a comment.