My Divine Mother
I stand inside your garden
I realize you're the tree
I see the fruit, an apple
Will it enlighten me?
Too soon, a surge, desire
Slowly snakes its way
Another act transpires
Is pleasure just in vain?
See the serpent in the dusk
The shape could be a rope
To trade the venom that I carried
For that forlorn hope
And you can turn the vine to ash
With your benign glance
Be my eternal friend
Given half a chance
Is the seed within us
Of the eternal tree?
And the sun to grow it
Nurtured by your being?
Oh, so many questions
To fit into the now
The why this might be that
When to be your hand is how.
– Shelby Glidden (Girish)
Girish met Amma in Los Angeles twenty years ago…and hopes to be one of her "angels" some day. He is a certified yoga teacher from Encinitas. He loves Indian philosophy and is a graduate in Psychology and Counseling.
As always, thoughtful comments are invited and appreciated. Share your reflections with us! See below to leave a comment.
Summary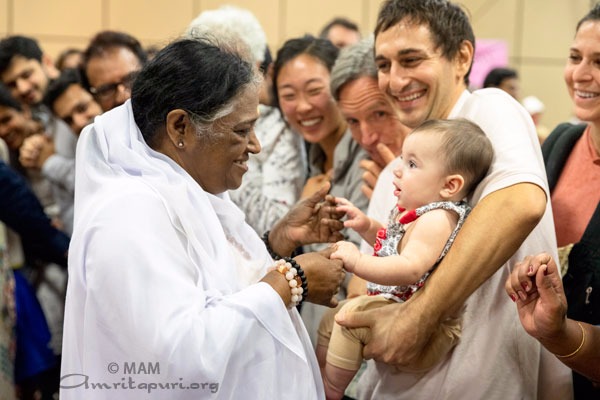 Article Name
Description
Is the seed within us. Of the eternal tree? And the sun to grown it. Nurtured by your being?
Author