In 2016, for Amma's cultural program in Dublin, Amma Ireland contacted the John Scottus School in Rathmichael to perform Vedic chanting for Amma under the wonderful teacher Rutger Kortenhorst. It was very lovely indeed to see these young people chanting in Sanskrit, and Amma thoroughly enjoyed the performance.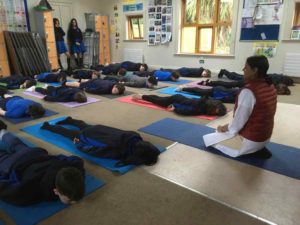 The school runs a junior certificate course based on Ayurveda for physical wellbeing, and on the Yoga Sutras for mental wellbeing, for 1st and 2nd year students ages 12 to 14.
As part of ShobhaJi's visit to Ireland for the first time this February, she was invited to the school by Rutger on the 10th of February 2020 to interact with the students and offer a yoga class for the 1st year students at the Secondary School. These students have a course titled Yoga Sutras and Wellbeing. As part of this curriculum, they learn about the healthy habits and values that support their overall growth and focus in life, thus enabling them to be better students and better humans.
Rising levels of stress and anxiety in adolescents are a serious problem throughout the world. In our commitment to support and serve society, we need to start thinking outside the box. 
The talk was about how all of us are ultimately connected as one consciousness. Despite differences on the outside, deep within we are all one. The postures we practice in yoga connect us with nature. The 'Tree Posture' integrates the peaceful, graceful, and stable qualities of the tree. Through such postures we gain greater focus. We find ourselves connecting better with our inner nature as we become more aware of our environment.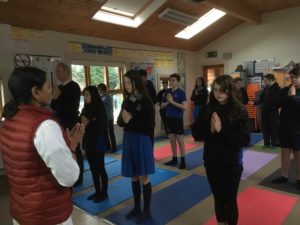 During the interactive session, Brahmacharini Shobha asked the students why they felt the need for this course. Many readily agreed that they were "stressed out"; they had constant demands at both ends of the day. They needed as much sleep as they could get (as most teens do), having so many obligations after school: sports, jobs, homework, and other extra-curricular activities. They weren't getting enough sleep because their day began at the crack of dawn and, once their classes were over, most of them had demands that filled up their afternoons and evenings.
The students shared what they had learned from this course and how it had impacted their practical living. Most felt that cultivating the practices had helped them develop a new perspective on life. They quickly related to the topics ShobhaJi was asking them about. The main theme was interconnection.
The beauty of society lies in the unity of hearts. To awaken this unity and spread the love that is our inherent nature is the true aim of human life. – Amma
It was great to see this interaction between the students and ShobhaJi as she engaged them in conversation about awareness and connection to each other and the wider world. They also discussed the importance of wellbeing and the ill effects of bad habits.
Most students credited this course for allowing them to have a better sleep. This was made possible by a routine and day planner with which they could score themselves. They were quite clear about what they had learnt from their interaction with ShobhaJi.
The steps that ShobhaJi took them through were very interactive, engaging, and fun. The class was alive with response to her queries. Asanas like Surya Namaskarah, Navasana, and Bhujangasana were rattled off with diligence and enthusiasm. Students were also asked to say the names of the asanas, thus maintaining a beautiful rhythm to the practice while learning some Sanskrit.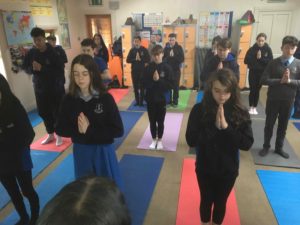 When asked for feedback from the 22 students who attended the class, many said it was fun, with fast and mindful movement. By consensus, 'Downward Facing Dog' was the best. Most students felt energized after the practice. They felt the quick movements helped them to stay both mentally active and calm. Overall, everyone was delighted with the visit, and Amma Ireland hopes to have the students back for Amma's visit to Dublin in October. 
Here is a list of 5 things that parents, and teachers may consider while working with students or children of all ages.
Regardless of the age of your students—middle school, high school or college—I think there are transferable concepts we can all apply in our work with them:
Improve the social and emotional climate. It is of the utmost importance to enable kids to learn and to improve the social and emotional climate. This is the greatest need.
Inculcate values in children. We often forget to inculcate values in children. Amma says that values are like a booster rocket. If spiritual principles are included in our education systems, children will grow into good human beings, with strong minds and noble hearts.
Use the resources at hand. Identify the resources we already have at hand: Time, Places, People. This is the easiest and most efficient way to put our systems in place. There are so many parents and communities that yearn to implant a foundation for their children. If we can come together for such needs in each locality, regardless of religion or faith, we can pave a better way for our society to stay weapon free.
Ask for community help. This doesn't require any money. Invite inspired people to apply their aspirations and get them on board to help the community.
Celebrate the outcomes with everyone. Everyone wins. Amma always provides us with opportunities for win-win situations. When two people have a conflict, give them both a suitable outcome. In the same way, train children to assume responsibilities according to their ages and thus achieve good relations for parents and children.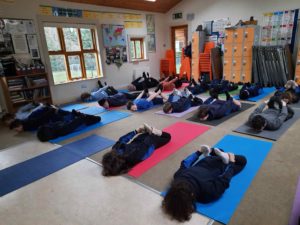 About John Scottus School
John Scottus School offers a vision of education that gives young people the self-mastery, strength of character, and compassion to contribute meaningfully to the world around them. It is an education based on the belief that every child can discover and express their innate gifts, contribute something unique and exceptional, and that each has limitless potential. The curriculum is based on designing learning experiences that encourage habits of stillness, attention, enquiry and unity – the heart of education. 
At John Scottus, the emphasis is on a regular practice of meditation and mindfulness. This strengthens focus, enhances awareness, and connects the students to a sense of quiet Presence whether in stillness or activity. It is an essential tool for living a fulfilled life.
The philosophy is enquiring about concepts such as truth, courage, justice and love. It is about asking such questions as, "Who am I? What is this world around me? How am I to lead a full and satisfying life?"  The subject material is the great spiritual literature of both East and West. One learns, for instance, how Socrates dared to ask the questions that led to his enlightenment, and the price he paid for it.
The physical education includes hockey, soccer, basketball, ultimate frisbee, rugby, Gaelic football, dance, fitness challenges, swimming, rounders, tennis, yoga and athletics.
Thus, did our interactive session support the founding philosophy of the school. The children happily thanked ShobhaJi for her presence. 
Summary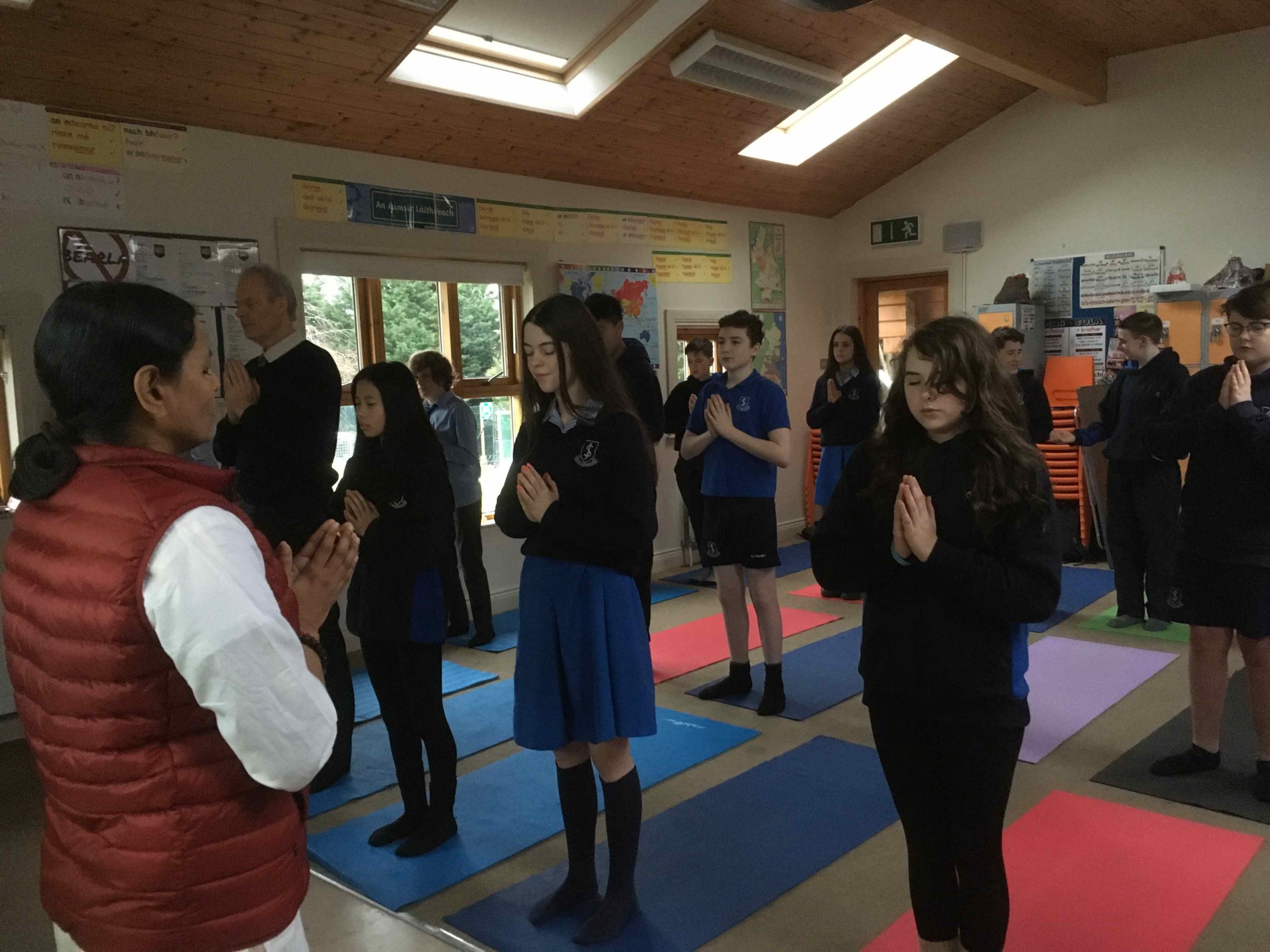 Article Name
Amrita Yoga at John Scottus Secondary School, Dublin, Ireland
Description
The John Scottus Secondary school invited Brahmacharini Shobana to lead their students in a yoga workshop. The students, aged 12 - 14, reported that lack of sleep and numerous curricular and extra-curricular demands added to their daily stress. Brahmacharini Shobana instructed them on asanas that help develop good habits and a bring about a positive perspective on life.
Author
Team Amrita Yoga, Amritapuri