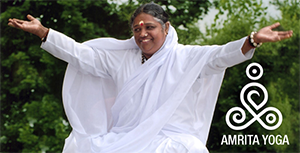 Amrita Yoga retreats, workshops and classes at Amma's Amritapuri ashram in India offer a unique opportunity to study yoga intensively for four-day, five-day, two-week, or nine-day courses, at all levels. The schedule also includes bhajana and archana (bhakti yoga), seva (karma yoga) and satsanga or yoga talks by devotees and disciples (jnana yoga). Participants are immersed in the ashram life for their spiritual benefit and upliftment.
Retreats are offered to suit a diverse range of abilities and interests in yoga. Those already practicing asana and looking for intermediate instruction can find a good match with the Intermediate retreats. We offer a 2-Week Immersion retreat for experienced beginners to intermediate particiapnts, while those new to yoga and looking to start a practice can find good matches with the Foundation and Beginner retreats.
This past August, we held the first 9-Day 'Kali Namaskarah' Intermediate Retreat, creating excitement for all the yoga enthusiasts in the ashram. About 45 participants learned the new "Kali Namaskarah" sequence, contributed to group seva projects, and participated in exclusive devotional singing with great sincerity.
We are also happy to announce a NEW "Shiva Shakti" Therapeutic Workshop for Holistic Living starting in January of 2015 at Amritapuri, India. This 5-day workshop uses the ancient science of yoga to enhance health and wellness at all levels of the person: physical, emotional and spiritual. It's an excellent choice for those who need something gentle yet effective to bring the body into balance and reduce stress. It is suitable for all ages and all levels of yoga practice, including beginners.
Dates for this Upcoming Winter 2014-2015 season:
Dec 9-22, 2014: 2-Week Immersion Program (Experienced beginner – Intermediate)
Dec 25-Jan 3, 2014: 9-Day 'Kali Namaskarah' Intermediate (NEW)
Jan 7-11, 2015: 5-Day 'Shiva Shakti' Therapeutic Workshop for Holistic Living
Jan 13-17, 2015: 4-Day Foundation (First time – Beginner)
Jan 20-24, 2015: 4-Day Intensive – Level 1 (Beginner)
Jan 27-31, 2015: 4-Day Intensive – Level 2 (Intermediate – Advanced)
We will likely announce additional retreats later, depending on Amma's tours