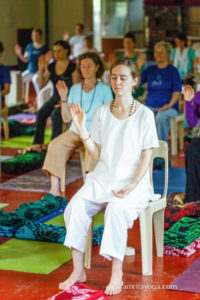 On the final day of the Shiva Shakti Therapeutic Yoga Sadhana Retreat, I joked with my classmates saying, "This isn't a class at all, it's really a spaceship!" And—at sublime levels of subtlety—I'd have to say that's actually quite true.
This retreat is 100% Amma's Grace—brimming with sacred teachings, mantras, mudras, satsanga and gentle asanas. The beauty, power and simplicity of the retreat has renewed me at both cellular and energetic levels.
At a mind/body level, the retreat has helped me to regain inner confidence that my body can, indeed, become truly supremely healthy again after having survived a severe/debilitating (for a time) car crash. At a far deeper level, the retreat has helped me to open my heart to consciously receive even more grace on a daily basis. After each and every session (and in continuing my practice beyond the retreat's completion), I am consistently filled with an extraordinary sense of inner peace and contentment.
Shobhana is a excellent teacher—truly radiant in expertise, devotion, and spontaneous humor (!).  Her manner is superfocused and relaxed—very down to earth while rooted in the beauty, purity and integrity of the sacred traditions in which she was raised.
During the first half hour of each morning session, Shobhana led the class in singing sacred mantras. Those opening moments created a soft and vibrant atmosphere in which to learn and practice. The following asana sessions for the day (one in the morning, one in the afternoon) were each dedicated to a specific divine principal. We were taught a particular mudra and its meaning each day. I had no idea that Amma had ordained that this sacred knowledge be included as part of the course.
Grace!  Throughout each session, the stated theme and mudra were re-introduced, encouraging deepened awareness as we practiced. While holding these simple asanas and ancient mudras, Shobhana chanted beautiful, heart-stirring mantras. She also shared teachings from Amma.
What I consistently experienced during those times of holding asanas and mudras is nothing short of Divine Mystery. Layers and layers simply peeled off and melted away. As we practiced, we were encouraged to remember our intentions for ourselves as well as the planet. Many, including myself, quietly wept (in joy) at various times. That was a real surprise. I knew this was going to be healing, but I had no idea it would be so utterly profound. All the while, AMMA was giving darshan in the meditation hall, or doing something else nearby. Again, this is no ordinary "class."  This is a Grace generator of the highest magnitude. To have the opportunity to learn this practice in Amma's direct energy field is an unprecedented boon.
The course also included daily satsanga provided by senior swamis and elder residents at the ashram. I really enjoyed this aspect of exploring the inner meanings of Shiva/Shakti, and continue to reflect on the knowledge, wisdom and insights offered.
As for the class itself, we really grew together as a loving, fun and supportive group. The retreat description clearly states that this is non-competitive. Beyond that, it is truly collaborative. Doing the practice together is part of the gift. Shobhana was keen to emphasize this from the very beginning, and did a wonderful job in holding the space for that intention. I'm so very grateful to each and every member of my class.
I HIGHGLY recommend this retreat to EVERYONE—regardless of whatever "condition" you find yourself currently in. The vibrations created, the constant awareness encouraged, the sincere efforts of each participant in the room, all soaked in and crowned by the Grace of Amma's Presence—is an opportunity of a lifetime. I am unspeakably grateful for this boon!
Author: Adarsha, USA