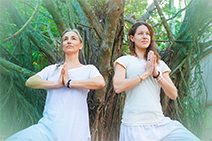 Dear Amrita Yoga Students,
We would like to invite you to the first Amrita Yoga Summer Retreat "Living in Awareness" with Br. Shubamrita in Europe. This unique new retreat-format offers a variety of spiritual practices according to Amma's teachings – as a way to more awareness, joy and vitality.
In addition to the talks, bhajans, meditation and puja led by Br. Shubamrita, the following workshops will be offered to explore the topic of the retreat in a deeper way: Amrita Yoga for beginners and experienced practitioners, Mediation (IAM 20), Tai Chi, Artwork, Meditative Photography, Bhajans, Connection with Horses, Permaculture, Nutrition,Acting, Stress-Management.
For more information, please visit: www.amma.de (german) or write to zentrum@amma.de
All activities are led in German, except for the talks (English with German translation). Organized by:M.A. Center Germany – Seminar zentrum Hof Herrenberg e.V.
BRAHMACHARI SHUBAMRITA CHAITANYA has lived with Mata Amritanandamayi (Amma) as a monastic disciple since 1989 and regularly gives lectures and seminars on stress management, yoga and meditation throughout Europe, Africa, India and the Middle East.
Drawing on more than 20 years of experience as one of Amma's closest disciples and personal translators, Br. Shubamrita shares his understanding of the Eastern spiritual traditions in practical and easily understandable terms.  Br. Shubamrita is also known as a gifted singer/songwriter.