First Amrita Yoga Beginners' Course in Kuwait
People from different walks of life had an opportunity to be part of a blissful three-day yoga and meditation program conducted by Amma-Kuwait, a socio-cultural organization that is part of the global Embracing the World initiative. Every participant had wonderful experiences to share. There were pre-registered participants, and we also had several on the spot registrations.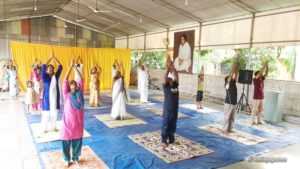 The Amrita Yoga Beginners Course was offered during this three-day event. Located in the northeast corner of the Arabian Peninsula, Kuwait is one of the smallest countries in the world in terms of land area. The flat, sandy Arabian Desert covers most of Kuwait. Kuwait is generally low lying, with the highest point being 306 m (1,004 ft) above sea level. It shares borders with Iraq and Saudi Arabia. Kuwait has a petroleum-based economy, as petroleum is the main export. The Kuwaiti dinar is the highest-valued currency unit in the world.
The event started with a traditional prayer, followed by a brief talk on Amrita Yoga, its purpose and its uniqueness. Subsequently, a simple beginner Amrita Yoga sequence was taught.
About fifty people benefitted from the Amrita Yoga program in Kuwait. In addition to this, IAM Technique courses were offered on all three days as well.
Brahmachari Amit, from Mata Amritanandamayi Math, India was the instructor for this program. The participants' questions and concerns were answered as part of the program.
Since Amma first visited Kuwait in the year 2000, Her programs have been hosted by the Indian Embassy. Kuwaitis, Europeans, Americans, and Indians – all came under one roof for their special hug with Amma. It is noteworthy that Amma-Kuwait is also involved in humanitarian activities like Amrita SPARSH and Amrita HASTH.
Amrita HASTH is a humanitarian project with the aim of mindfully knitting woolen clothes for free distribution to homeless people in India. Amrita SPARSH (Special Needs Awareness Reach out to Support and Heal), a program to empower parents with special needs children, who may otherwise be forgotten and left to deal with their struggles alone. Amrita SPARSH periodically conducts free hands-on workshops, seminars, talks, counseling sessions, and one-on-one intervention.
For more information on Embracing the World, please visit: www.embracingtheworld.org. To get involved in the Amrita SPARSH or Amrita HASTH initiatives, please contact: ammakuwait@yahoo.com
Testimonials from Participants of this Retreat
Fantastic yoga postures for flexibility, concentration and maintaining correct posture. Good teaching and explanation of subtle tips. Enjoyed the experience. Kotinamaskaram to my Guru Amma, and Amitji.– Moli
I really liked the asanas, the bhavana and the sounds. I felt more energetic and strong with the grace of Amma and Swamiji. Thanks very much for the wonderful Amrita Yoga session. We expect more such sessions in future.– Jayashree
Excellent class and I gained confidence in myself that I can do yoga.– Tripura
Very good. Excellent My humble pranams to Amma's Lotus Feet and pranams to the instructor for helping a fat man like me do these yoga exercises! No words.Prabhatkar
Excellent. Really enjoyed and I am thankful to Amma for giving us the opportunity to attend this divine course through the instructor's expertise.– Chandran
Summary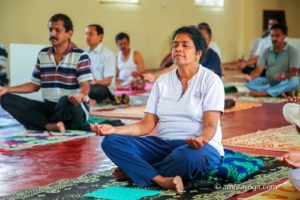 Article Name
First Amrita Yoga Beginners' Course in Kuwait
Author