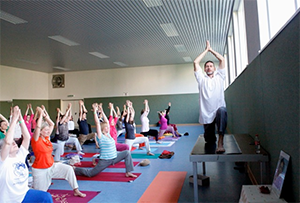 The first Amrita Yoga Summer Festival of its kind was held in our German Ashram near Frankfurt and was led by Br. Shubamrita. With Monday being a public Whitsun Holiday, the festival took place on the extended weekend from June 6th – 9th.
It reached a maximum number of over 200 participants and was booked out weeks before it started. Two parallel classes at different levels were offered each morning as there were participants from all age groups with different experiences in yogasana, from total beginner to experienced teachers. Two German speaking residents from Amritapuri conducted these classes.
After the morning classes the students had the chance to attend satsanga. All 3 talks covered aspects of the Yoga Sutras and were delivered with lots of humor and practical insights. The first 2 talks were given by Br. Shubamrita and were followed by question and answer sessions where the participants could ask questions about Yoga or questions concerning spiritual life in general. The archana chanting and bhajan sessions which regularly take place in the Ashram were also part of the schedule. However, on the second evening the Atma Puja led by Br. Shubamarita preceded the bhajans. This was a very special and memorable experience for all of us.
In the afternoons people could choose from different workshops like Amrita Yoga, IAM 20 (unique meditation technique from Amma), Tai Chi, artwork, bhajana, personal development with horses, permaculture, Ayurveda, acting, and photography.
The workshops shared the core theme of the festival: "Living in Awareness." Thus, the students were guided how to learn to do these activities in line with Amma's words 'Every action done with Awareness is Yoga'
At the end of the retreat everybody left happy and relaxed, and were also inspired to live their lives with more awareness. A number of participants expressed their desire to have such Amrita Yoga retreats next year. The Summer Festival in Germany was a great beginning to spread Amrita Yoga beyond Amritapuri and hopefully there will be many more such offerings for the yearning hearts in all Amma's centers around the world.
Author: Dayalu Alwin D'Angelo