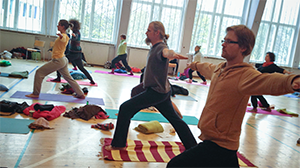 Greetings from the first Amrita Yoga retreat in Finland. It was held at the Helsinki Steiner School on the 24th and 25th of October. We were almost forty participants, including women and men, and both the young and more mature people interested in yoga.The teacher was Rebekka 'Gunavati' Roininen. Pertti 'Jagadish' Jääskä supported and organized the retreat.
We started by introducing ourselves and telling about our relationship towards yoga and what expectations we had about the first Amrita Yoga retreat. Some participants had been practicing yoga already for decades, and some were yoga teachers too. For some of us it was the first introduction to yoga practice. All were asked to have a beginners' attitude.
There were many different expectations: some wanted a more flexible body, some were looking for tools to control their mind, and some were even modestly hoping to get enlightened. I decided to take the course because I missed Amma so much. I had also missed Amma's visit last year due to a leg operation. I was thinking that, with the retreat, I can stay a little bit more in stronger Amma-energies, and it worked well! I have had regular yoga practice (hatha yoga) over a decade, but I was still a little bit nervous about managing with this run down body. However, the teaching was very gentle, encouraging and accepting.
The instructor showed and explained the asanas carefully many times over, and the given handout was a good help in remembering and learning the sequence. The instructor and the assistant came out in a compassionate and funny way about their own body´s inflexibility as well as the challenges of the chattering mind.
Life is continuous practice: sometimes there are easier times, and sometimes more challenging periods—even after ten years in ashram, as Gunavati made a point of saying. Gunavati emphasized the importance of commitment: even if yoga and meditation tend to drop off in the midst of daily life, it would be a good practice to commit to do even a couple of asanas daily.
Saturday's spiritual talk by Jagadish was right after a big and delicious lunch. I know that we shouldn't eat much before yoga, but the cook had made such tasty food that I was forced to eat more. It was a challenge, but Jagadish gave permission to meditate the Finnish way (nodding your head) while listening to his talk. However, his talk about his own journey in yoga and meditation from the 1970's was so funny and touching that it wasn't the least difficult to stay awake. Thank you!
Here are some more testimonials from the other participants:
I have a bad tendency to 'achieve' so this style of yoga fits me—where perfection in asanas is secondary, that's great for me. It was an inspiring and accepting atmosphere.
Gentle and peaceful teaching style. Love this approach. We in the west, in general, have a tendency to achieve and compete, and I love this approach from Armita Yoga so much for there is nothing to achieve.
Wonderful, finally in Finland! Thank you for well-instructed Amrita Yoga. Rebekka's (Gunavati) instructions were calm, clear, encouraging and professional. The program was well planned. Many thanks to Rebekka and Jagadish.
I wish for more courses in future. I felt that you don't need to be perfect, the mind can wander and body can be stiff as long as you commit to make the attempt. Amrita Yoga is the way!
Loved the approach and the way Amrita Yoga was presented. Wonderful talk by Jagadish. Loved Gunavati's stories. She has a certain touch and there was no insecurity.
Amma´s idea about yoga was well presented; spirituality was emphasized.
My own experience now, after one week of doing yoga, is that my constantly restless monkey mind calms down nicely with the combination of movement, breath and mantra. Being consciously aware of my body, the feeling of being present is stronger and the concentration has deepened the silence of the mind. Also the connection to Amma, enforced with mantras and yoga practice, feels heavenly. I'm happy that I was able to take the course, and I recommend it warmly to others!
Author: Eija, Sri Kripa, Guttormsen