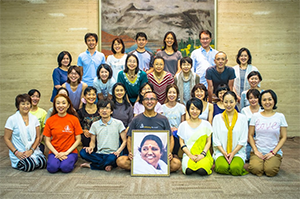 On Aug 30th in the Nigata countryside, Japan, students congregated to participate in a four hour Amria Yoga session. The beautiful Nigata Prefecture, located on the north of the main island, is famous for the quality of rice and rice wine (sake) produced there. The venue was a very old traditional house with a beautiful Japanese style of garden nestled into this beautiful countryside, which is protected as part of the cultural heritage of the country.
Instruction in the Amrita Yoga "Surya Namaskarah" sequence was given to the small group of students. With awareness of breath and movement, the participants learned and practiced the sequence as an offering. Vivek, the instructor, has many years of rich experience living and traveling with Amma. During the retreat, he shared some of Amma's teachings and his experiences of being with Amma. His stories imfused the session with the pure vibrations of joy and laughter as everyone enjoyed their practice. The joyful atmosphere helped the class rise to a different level of awareness, thus allowing each student to feel the divine fragrance of Amma's ever-flowing, infinite Grace. One could feel not only a change in the physical body, but also a transformation in the hearts of the individuals within the group. Everyone was so focused and experienced a deep rejuvenation from the feeling of unconditional love that was created through the group practice.
The Amrita Yoga retreat coincided with a famous Nigata village festival. That evening, the sky was filled with fireworks. The village locals carried a big snake made out of straws through the town. The snake was 82.2m in length, which was a Guinness record!
This is what some of the participants shares about their experience:
We really enjoyed practicing Amrita Yoga in a relaxed manner. Listening to Amma's beautiful stories from our teacher was a topping for this. Our teacher is very special and was very good and detailed and taught with care and love. Thank you, Amma for giving us this opportunity, like in India. – Haruko Okuyama
I felt so good after the class, but it was surprisingly challenging to practice the sequence slowly and in detail. I really enjoyed listening to the stories and the seva. I have never met Amma and am looking forward to meet Amma in India soon!! – Noriko O
It was an enjoyable session with a lot of clarity and precision. Vivek's talk was so interesting and filled with fun!! Please come back to Nigata again!! This was our first Amrita Yoga class. I laughed a lot listening to all the jokes. 🙂 – Yuko, K
Over the course of a few evenings in September, a group of Amrita Yoga students gathered in the heart of Tokyo's city center to partake in Amrita Yoga classes. Surrounded by office buildings, the classes were held at a Buddhist temple in Shinjuku.
Most of the participants came straight from work, many were tired and felt exhausted from their day. Despite this, their enthusiasm to participate did not waver. They were very excited to have Vivek to nourish them with his laughter and fun. Every evening their exhaustion was replaced with nourishment from Amrita Yoga.
The instructor, Vivek, has a great flavor and is a spontaneous person. One could feel a lightness of both body and mind after the classes. Themes like compassion, patience, and giving were woven into the classes. Students always left with smiles on their faces and new sense of rejuvenation.
The interweaving of movement with breath and the internal chanting of mantras that is a hallmark of Amrita Yoga creates a journey to peace. The practice of Amrita Yoga is a filled with remembrance of our Divine Mother. Practicing Amrita Yoga is a journey to the source of happiness. Amrita Yoga is full of Joy.
Author: Brahmacharini Shobhana