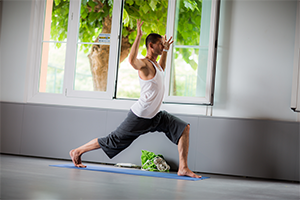 The fourth edition of the Barcelona Yoga Conference was in Spain from July 3-7, 2014.
Amrita Yoga presented for the third year in a row. It was the biggest event of all four as over 600 participants from five different continents registered throughout the three main days. It was also a successful year for the Amrita Yoga classes as about 150 participants total came to the three classes.
The BYC is a Yogi Celebration that offers a five full-day program of activities including live kirtans, morning meditations, satsanga, etc. This is an inspiring, healthy and positive gathering and is part of the essential dates of the global Yogi agenda. With the presence and support of an amazing list of internationally recognized yoga teachers, BYC is one of Europe's largest yoga conferences. There are instructors from about 20+ Yoga styles who participate and present. During five days, Barcelona becomes the Yoga World Capital making it a uplifting and spirited adventure.
Amrita Yoga class on Friday was an introduction class for beginners where Amrita Yoga's main theme was introduced, "Awareness in Every Action."
The classes on Saturday and Sunday were all-level classes. In the second class the theme was devotion. In the beginning of the class, Valsala and Sneha from our AYUDH led a Bhajan accompanied by Dhananjaya, a resident from the Spanish Ahsram who played the guitar. The class also included some backbends and in general, the class was very well received.
The Sunday class was on the roof of the sports hall. Although it was sunny, it was a good place to practice as it was covered and shaded and there was a gentle breeze. The theme in this class was Amma's teachings on Self-effort and Grace. This class was the largest, with over 50 participants.
All 3 classes were facilitated by an European Amritapuri-Ashram resident, Alwin D'Angelo (Dayalu) and assisted by Prem and Veena from France (the parents of Sneha and Veena). The organizers expressed their wish for Amrita Yoga to come back to the Barcelona Yoga Conference next year. The organizer of BYC supports Amma's Embracing the World charities by donating 3% of the profits.
Author: Dayalu Alwin D'Angelo