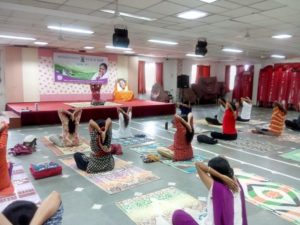 International Yoga Day celebration with Amrita Yoga at Mata Amritanandamayi Math, Mumbai
The United Nations General Assembly declared the 21st June 2015 as International Day for Yoga, co-sponsored by 177 countries of the world.
"By proclaiming 21st June as the International Day of Yoga, the General Assembly has recognized the holistic benefits of this timeless practice and its inherent compatibility with the principles and values of the United Nations." – Banki Moon (UN Secretary- General)
On the occasion of the International Yoga Day Celebration students from different schools across Mumbai, including Amrita Vidyalayam, Juinagar, and devotees from the twin cities of Mumbai and Navi Mumbai, defied the rainy weather and assembled to participate in the session of Amrita Yoga practice. A host of dignitaries were present on the occasion, including Shri Sudhakar Sambhaji Sonawane, the Mayor of Navi Mumbai, Shri K.N. Mohandas, an experienced yoga teacher, Shri Nandkishore Joshi, member of the Pollution Control Board and Shri Datta Nagre, Education Officer, Navi Mumbai. The event commenced with the auspicious lighting of the lamp by Brahmachari Avyayamrita Chaitanya. Then the Dhyana Shloka was chanted, followed by the Aikyamatya Suktam, in keeping with the common protocol guidelines.
After brief speeches by the dignitaries, the Amrita Yoga session began under the instructions and supervision of Brahmacharini Shobhana assisted by Brahmacharini Sunanda. It was encouraging for the participants to know that all the honorable dignitaries too were ready to practice the yoga postures along with them. Then there was a Hatha Yoga presentation by the trainers themselves that received thunderous applause.
The celebrations continued at the ashram with a full-fledged Amrita Yoga session for AYUDH members and devotees. The post-lunch session included a discussion on the benefits of doing regular yoga, and a quiz to test the participants' yoga knowledge quotient. The session ended with the chanting of the mantra 'Lokah Samastah Sukhino Bhavantu', appropriate to the motto, 'Yoga for Harmony and Peace.'
Author: Lalita Suresh