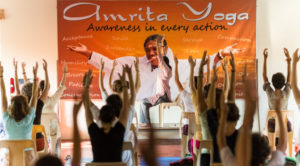 'Shiva Shakti: Bringing Rhythm and Stillness to Your Life' – Restoratives with Therapeutics Weekend Workshop at Nerul, Navi Mumbai, India was conducted on the 28th and 29th of June 2014 by Brahmacharini Shobhana and Gunavati from Mata Amritanandamayi Math, Amritapuri. This was the most awaited summer event for the participants and the third year of Amrita Yoga exclusive workshops at MA Center, Navi Mumbai.
Thirty participants attended the workshop. Core principle was to meet the students where they are at present with the therapeutics and restoratives. Each aspect was non-competitive, encouraging every practitioner to work at their own optimum level of intensity. There were a few first time practitioners and they too felt perfectly comfortable working alongside the more experienced participants. Each asana was an opportunity for the students to feel their inner rhythm being in the posture and experience their relative inner stillness.
There were 4 sessions and each session was comprised of a sequence of asanas, simple breathing techniques, meditation, and a relaxation technique. The first part of each session focused on classical asanas modified and practiced on chairs. The second part focused on modified asanas for a floor practice along with restoratives, breathing techniques and meditation. Satsanga was inbuilt during each session.
Yoga Therapy is the ancient science of yoga from India and was brought out more to the public in the early 1920's by Swami Kuvalayanada. Therapeutics focus on holistic health and wellbeing of an individual, focusing and nurturing all levels of the person: physical, psychological, emotional and spiritual. A general therapeutic class will always include restoratives.
Amrita Therapeutics is based on the model of pancha kosha (5 Kosha System). This system is enhanced with many other tools, techniques and models including the 5 Elements, 5 Pranavayus, 8 Limbs, 5 Kleshas, 7 Chakras, Ayurveda, and the functioning of the major 9 Systems of the Body. Amrita Therapeutics offers a vision of health that respects the interconnectedness of all of life and is aligned with our highest evolutionary potential.
The focus in Amrita Therapeutics is on linking movement to deep, rhythmic breathing and an emphasis on relaxation techniques. It is an inherently holistic approach, simultaneously working on the different layers of the body, mind and awareness. Amrita Yoga focuses deeply on Awareness as the center of healing and holistic health. Therapeutic sessions are intended to empower individuals to find their own path of self-healing. A practical take-home 30-minute therapeutic sequence is always given out at the end of each workshop for each participant. The instructor demonstrated and taught this and emphasized throughout the workshop how it can unfold a holistic approach to health at all levels in our everyday life.
Maharishi Patanjali said that the key to success in yoga is dedicated, uninterrupted practice over a long period of time. The result is that the samskaras (latent tendencies) slowly but certainly release their grip on the individual as one stays with the practice. Thus there is a healthy fresh imprint which can help guide people out of the ruts in which they have been stuck, such grooves of thoughts and cell memory. Yogasanas melt away physical and mental tension and deeply relax the mind and body as they move towards balance and inner rhythm. They also assist the body's ability to heal injuries and recover from illness by releasing tension that would otherwise impede recovery. Yogasanas offer benefits to both body and mind, for conditions which include insomnia, chronic pain, stress, fatigue and depression.
From the Participants Themselves
"The classes were gentle and deeply nurturing with detailed demonstration and explanation of why and how to practice the asana. Also the classical asana for each posture was demonstrated to give us the image of how and what we are doing to help ourselves." – Murali
"I feel refreshed after doing the yoga postures demonstrated and the same are practicably simplified to suit the adults. Personal attention is given to participants with specific health problems." – Vignesh Gupta
"I am happy to complete the weekend Amrita Yoga Therapeutics & Restoratives workshop. It was very relaxing. I can make out how my body was feeling so stiff and after completing it today I am feeling so good. I will surely continue it in my daily practice. Thank you so much. "– Mahima Roy
"Good session with restoratives. For sick people this is very beneficial. Need such classes regularly. Please make more advertisements especially in newspaper. Preferably make sessions for specific conditions like heart disease, diabetes, etc. "– S V Khatri
"The yoga workshop was very beneficial. It addressed a lot of my health problems and is not at all strenuous. The entire workshop was very interactive and there was a lot of practice for us. The benefits of each asana were very clearly explained to us. The entire practice is short and hence can be done as a daily sadhana. I am so grateful to Amma for this opportunity." – Amrita
Amrita Therapeutics
The key in Amrita Therapeutics is pure love and complete relaxation. Love allows us to forgive the body for its hurts, pains and betrayals. It takes tremendous courage to know we have a choice to heal or suffer. While suffering at least keeps us feeling something, love is not suffering or struggle. Love is pure and free, full of dignity and hope. Those who commit to the path of Yoga, if they persist, find that they are becoming happier, healthier, successful, content, and live the present moment in its fullness. In the dignity and comfort of authentic feeling, they begin to have compassion for the intricacy of being human. Now the mind, body, and heart merge into one; a collaborative, loving union.
'Learn to be relaxed in all circumstances. Whatever you do and wherever you are, relax and you will see how powerful it is. The art of relaxation brings out the power that exists within you; through relaxation you can experience your infinite capacities. It is the art of making your mind still, and focusing all your energy on the work you are doing. Thus you will be able to bring out all your potential. Once you learn this art, everything happens spontaneously and effortlessly.' – Amma
Amrita Therapeutic workshops are seasonal. If you are interested in joining such workshops in the future in Mumbai email mailmam.mumbai@gmail.com
If you are interested in attending workshops at headquarters in the presence of Amma at Amritapuri, Kerala, India email amritapuriamritayoga@gmail.com
Author: Brahmacharini Shobhana