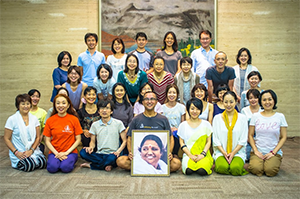 Through the windows of the MA Center Tokyo, one could view the red and yellow leaves all around like the autumn's footprints everywhere. Winter was approaching with fresh cold air to blow the falling colorful leaves on the street. Within the warmth of the MA Center, a small group of Amma's Japanese children came together to participate in a four-hour Amrita Yoga Retreat. The natural beauty of the changing seasons created the perfect backdrop to help the students go within.
A simple home practice was offered to the students in attendance. The sequence titled 'Bala Namaskarah', meaning prostration to the Divine Mother with childlike innocence, can help to invoke the childlike attitude within us.
The instructor, Vivek's humour and fun captured everyone's restless mind to focus on the practice. The retreat started with preparatory postures and Surya Namaskarah followed by the standing, prone, supine and closing postures.
Vivek also shared his personal stories and experiences with Amma during the retreat thus giving the real taste of Amrita (nectar). The uniqueness of Amrita Yoga is intertwining the internal chanting of mantras with the physical asana practice, providing students with a deeper sense of awareness and peace.
The four hours passed quickly and students, the majority of whom were women, remarked that it was an amazing experience. Amrita Yoga is a simple awareness practice and like our beloved Amma, it accommodates all categories of practitioners.
Author: Brahmacharini Shobhana