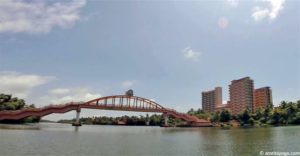 What can inspire us? What can help us go deeper into ourselves? The first answer that comes to my mind is LOVE.
"In this universe it is love that binds everything together.
Love is the very foundation, beauty and fulfillment of life"
— Amma
 Love can be so inspirational. Love sourrounds us, pervades us.
There are as many kinds of love as stars twinkling in the sky, and we can use them, get in touch with them, for the development of our souls.
Recalling the spiritual love from a disciple towards his or her guru is of great upliftment. This can be done by remembering own experiences, such as the situations and moments we have lived near a mahatma like Amma, either being phisically with Her or just feeling her enormous love growing in our hearts, even when we are at a distance. These moments are precious gifts, inspiring us to go deeper into our true Self.
On other occasions, the devotion experienced by others may be a catalyst to our own spiritual growth. During my stays in Amritapuri, I remember observing the swamis and swaminis, the brahmacharis and brahmacharinis, western renunciates, residents and visitors.
It is just so touching that these people have left everything behind to follow the highest ideal, following the path of spirituality towards Self Realization. They have left the world in order to live according to their guru's teachings. When I observe their faith and devotion, I find it so sweet and inspiring. Listening to the devotional singing, the bhajana, I get so emotional just by looking at how they play and sing with all their love at the feet of the guru.
On the other hand, the love of Amma towards them, towards all of us, is so moving. She is living the ideal of love with her life. She is giving everything to uplift us, physically, mentally and spiritually. She is even forgetting her own needs only to fulfill ours. This immense love cannot be compared with anything else.
This is the LOVE that all of us aspire to. We are so lucky to be in touch with it through Amma.  The life of many saints and avatars can be also so inspiring. I feel very close to the figure of some Spanish saints, such as Saint Teresa of Jesus. Her love and her relation with Lord Jesus was so authentic and intense. It is a gift to all of us who are able to read her inspirational works and feel her love and passion growing also in our hearts.
I also have a strong connection with the teachings of Paramahansa Yogananda. The intense bond existing between him and his guru, Swami Sri Yukteswar, is so thrilling. Just thinking about this timeless relationship and its implications for their souls brings tears to my eyes…so intense is the fervor felt from one to another and the loyalty of their hearts.
The same thing happens with the profound love felt by the spiritual giant Sri Ramakrishna Paramahamsa and Swami Vivekananda. This love was so sweet and gentle, so inspiring.
Many great teachings have come to us. Thanks to the love and faithfulness of these great souls. Many blessings have come out of the compassion and devotion of numerous mahatmas. It is of great importance to us to cling to their love, use it as a way to go faster, deeper within ourselves.
Going back to the different expressions of love, spiritual relationships between brother and sister devotees are also of great importance. Helping and encouraging one another, like members of the same family, and serving as an example and inspiration to others, may also be inspirational for us.
Good deeds are also a source of inspiration. When somebody performs a good action out of love, it moves us, fills us with tenderness and inspires us to do something in the same direction. We may then have the strength to act and not merely think about it. The first step is done just by observing others doing good; expressing their love, we are moved to do the same.
"Our highest, most important duty in this world is to help our fellow beings." —Amma
"Serving the world with love and cooperation, you will find your own true self. As you help those in need, selfishness will fall away, and without even noticing you will find your own fulfillment." —Amma
"As you perform good actions selflessly, true love will blossom, which will purify our emotional mind."
—Amma
Mother Nature is a great expression of love and a true source of inspiration. Nature is made out of the love of God, and is an extension of God, who is pervading everything—the whole creation. Every manifestation of nature is a manifestation of the Divine's love giving us the present of His magnificence.
"Everything in nature has a purpose to fulfill. There are no mistakes in creation." —Amma
One of the purposes of nature is encouraging us to go within, just by admiring it, enjoying it and being immersed on it. Many situations can inspire us in nature, such as landscapes, sunshines, sunsets, looking at the sky, the clouds, the sea and its waves. This inspiration can bring out the best in us. It can give us a hand and take us to deeper territories, where the soul reigns. It goes beyond the superficial ego and our most beautiful dreams.
May we all find a true source of inspiration that leads us to a closer relation with God. May we all be able to feel such immense love for God, our Divine Mother, within our hearts. May we tune to the philosophy of Amrita Yoga – "Living From The Heart".
Author: Silvia Hidalgo Daya