The second International Day of Yoga is just around the corner! On Tuesday, June 21st, all of Amma's centers and institutions worldwide will host free yoga sessions. To find out how to participate, contact your local Amma center or ashram, or email: idy@amritayoga.com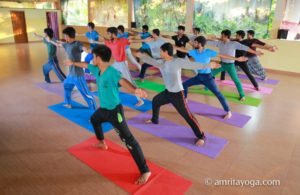 The Honorable Indian Prime Minister Shri Narendra Modi urged the United Nations General assembly to adopt June 21st as the International Day of Yoga (IDY). His address stated the invaluable gifts offered by the practice of yoga. In December 2014, the United Nations General Assembly (UNGA) made the formal declaration with the overwhelming support of 177 nations.
In 2015, over 65 Amrita Vidyalayam schools throughout India participated in the first annual event, along with more than 150 MA Centers and Amrita institutions worldwide. Amma was in Santa Fe on June 21st last year. She practiced some simple stretches and spoke about the tradition and benefits of yoga.
In addition, the Mata Amritanandamayi Math has partnered with the Government of India's Ministry of AYUSH to plan, promote and celebrate International Yoga Day. Companies, schools and institutions throughout India are approaching the Math for support, and we are offering training workshops as requested.
The celebrations and practices on that day will follow the Common Ministry Protocol for public events which involves collaborations with other organizations and the AMRITA protocol within our university campuses, schools, projects, villages, and M.A. Math worldwide centers.
All the preparations aim to foster and support people worldwide to join together and imbibe the immense treasures that Yoga has to offer.
Please make sure to follow us on our official page: amritayoga.com or Amrita Yoga Amritapuri on Facebook. Kindly like our IDY announcement on Amma's Official Facebook page too!
Summary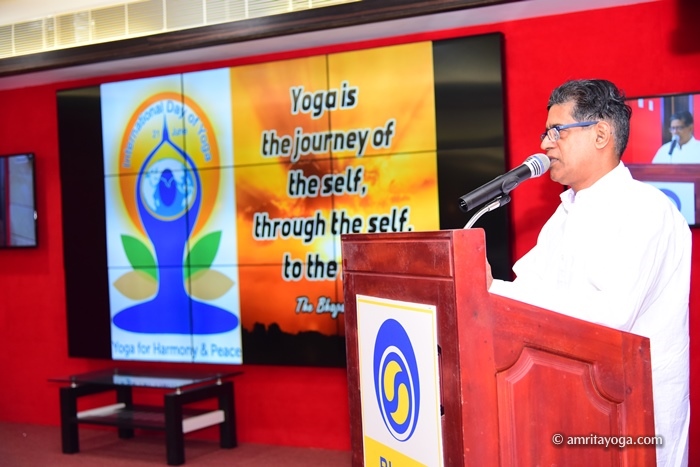 Article Name
International Day of Yoga 2016 - Mata Amritanandamayi Math Partnering with Indian Ministry
Author
Team Amrita Yoga, Amritapuri