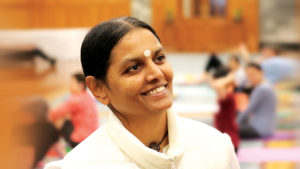 With Amma's blessings, Australia and New Zealand were privileged to have Brahmacharini Shobana (Brni Shobha) visit from October 15th through to December 2nd 2019. The full tour schedule included six cities across Australia and three cities in New Zealand. Brni Shobha led back to back programs guided by the Amrita Yoga theme of Awareness with Heart Centered Intention. This was the point of focus not only of Brni Shobha's yoga classes but of all her interactions and communications with local community members, practitioners, political leaders and university students alike.
The programs contained group and private yoga classes, public talks, satsangs, radio interviews, Durga and Bhagavati Seva pujas, fundraising dinners, both residential and non-residential retreats (including inner silence), and a poignant Amrita Yoga event hosted by New Zealand's Parliament House. Brni Shobha touched and inspired lives in diverse communities across Australia, encouraging people to transcend physical asana practices and embody the essence of Amrita Yoga – unconditional love and an attitude of service to the world (not only on but off the mat, too!). This manifested in profound ways, as Brni Shobha led by example, offering her time selflessly to all participants in her classes, pujas, talks and retreats. In doing so, she consistently mirrored the compassion and kindness displayed by our most beloved Amma. All attendees at Brni Shobha's programs were deeply moved by her generosity and humility, and truly felt her deep connection to Amma.
Brahmacharini Shobana attracted large crowds at several of her events, where she taught with love, humour and knowledge. Her public talks and satsangs served as an opportunity for her to speak about her own journey. Audience members were deeply moved as she spoke of her life from childhood, and told of her first meeting with Amma.  Referring to Amma's transformative influence on her spiritual growth, Brni Shobha emphasized what a blessing it is to have a spiritual master who does indeed lead you to the Self-realisation that is the goal of human life. Again and again, she reminded attendees that the purpose of spiritual practice is to merge with the Self. Audience members reported feeling Amma's presence strongly, and many were moved to tears by Brni Shobha's dedication to Amma.
Coordinators and program participants alike were inspired by Brni Shobha's capacity to integrate Amma's teachings and Vedic principles in such a way that they were meaningful and relevant to the audience. Brni Shobha had a keen awareness and understanding of the diversity of participant and community needs. She intuitively responded to the unique needs of each. Her humour, warmth and sincerity guided those in attendance to deepen their growth. A key example of this took place in Sydney, at the University of New South Wales, where she was invited by students of the Yoga Society to lead a class supporting their variety of backgrounds and faiths at a critical point in the lead-up to their exams.
Brni Shobha designed a special class to reduce stress and increase awareness and consciousness of the breath and subtle body. This helped the students to remain steady and still amidst the turbulence of their lives and studies. Brni Shobha asked the students questions, made them laugh, responded to their needs, and was warmly encouraging of their academic studies. She spoke about regular spiritual practice in such an inclusive and profound way that she transformed a room of nervous students into a poised and glowing convocation of sadhaks. Brni Shobha well serves as the embodiment of Amma's philosophy of embracing all. Her programs are practical and relevant for everyone.
Tour Highlights
Retreats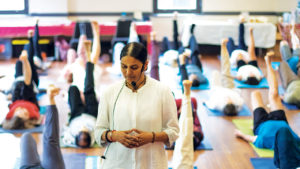 For those fortunate to attend one of Brni Shobha's Inner Silence retreats, they were led on an interior journey of stillness and solitude. Here they were able to withdraw from the outside world and listen to the innate silence within. The participants enjoyed yoga asana, pranayama, meditation, yoga nidra, and satsang. Brni Shobha helped attendees experience a beautiful aligning to the inner silence and recognize that the connection is always present. Throughout the retreat, attention was regularly brought back to the breath as it serves as a powerful tool to silence the mind.
Private classes
Private classes with Brni Shobha were booked up quickly. By the time Brni Shobha arrived in Sydney, so many people had requested individual sessions that she offered private classes well into the night. It was her intention to accommodate the desire of all those seeking guidance for their practice, and she proved uniquely capable of providing insight with incredible expertise.
Focusing on personal objectives and identifying areas of healing, participants were given practical, clear and specific guidance on their individual needs. They received instruction on how to follow through and incorporate what they had learnt into their daily lives. In these sessions, Brni Shobha provided gentle restorative practices and supported those recovering from illness or injury to help boost their confidence and aid healing. After the classes, many recipients spoke of an improvement in their feelings of wellbeing, while some even reported a significant reduction in pain and discomfort. Brni Shobha's compassion, receptivity, genuineness and wisdom, and her ability to lovingly support participants in reconnecting and realigning with their essential nature was profound.
I was fortunate to have a private yoga lesson with her to fix a few problems in my neck and back. The time was so precious, and the meeting was such a gift. Amma somehow always knows what we need, and if we trust in Her there will always be flow and grace. The days I've spent with Brni Shobha have shifted everything for me and I am truly grateful. – Uttama (Anieszka) Pidial
Pujas
In keeping with Amma's firm resolve towards women's empowerment, Brni Shobha has been trained to conduct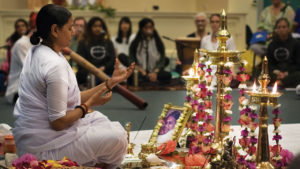 pujas and homas, ancient and sacred rituals. Attending a puja conducted by a woman pujari was poignant and deeply moving for all those present. Brni Shobha conducted the Durga Puja for the Mother Goddess, which is offered for the cleansing of the atmosphere, to remove negativity, to protect and nourish the environment, and to uplift the human spirit. She also performed the Bhagavati Seva puja, which helps recipients experience and generate positive energy, brings peace of mind and prosperity, and better enables us to touch the Divine, our true nature. Both were very powerful pujas, simple and fragrant in their beauty. They were conducted in various cities, while local bhajan groups and congregations sang together with devotion.

Amrita Yoga at New Zealand's Parliament House
After completing several Amrita Yoga programs in Auckland, Christchurch and Wellington, and giving an extremely well-received radio talk, Brni Shobha was greeted at New Zealand's Parliament House, commonly known as the Beehive. The Amrita Yoga event held at this renowned venue was hosted by Nicola Willis, a New Zealand politician and a Member of Parliament. Ms. Willis addressed the audience with the following tribute to Brni Shobha: "Namaste. It is such an honour to have you here, ShobhaJi. I only wish I was in my yoga gear! I was greatly inspired hearing about you, and I am so happy to meet you! I promise that I will set a daily yoga practice."
A participant shared the following reflection on the event at the Beehive: "When you started chanting, I immediately sank into calmness and silence. I wish I could just continue listening. I have never experienced this before in my life, and I have practiced yoga for the past 40-plus years."
Australia and New Zealand were extremely enthusiastic about hosting Brni Shobha and experiencing Amrita Yoga, as well as the range of other practices and activities she offers. However, no one expected that quite so many people would flock to see her, be so deeply moved by her, and feel such profound love and appreciation. Brni Shobha surpassed everyone's expectation by giving so much of herself and her firm commitment to cultivate a deepening practice not only within individuals but collectively as communities.
In a very tangible way, Brni Shobha brought so many people together in harmony and service, encouraging conversations, feedback, friendship, support, sharing of ideas, encouragement and expressions of gratitude within our communities. She awakened the spirit of love and connection between us and, in doing so, our connection with Amma.
By the end of Brni Shobha's Australia tour, she had gained such a reputation that in Sydney, the town hall was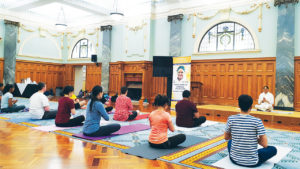 overflowing for the two-day retreat, with people travelling from interstate and overseas to attend. It was a delight to share Brni Shobha's programs with members of the extended community from Queensland, Northern New South Wales, Alice Springs, Canberra and even Amritapuri!
Shobha's clarity, certainty and incisiveness right to the core brings with it a kind of comfort that we are under the instruction of a teacher who has learnt very well. Her powerful focus and deep devotion was a much need boost to us who long to imbue Amma's teachings, Vedic knowledge, and compassionate care and action into our busy Western lives. To experience Shobha's informative teaching program steeped in our beloved Amma's presence in was like a wellspring of renewal and remembrance. – Priyamrita Berry 
Through Brni Shobha's programs, many people across Australia and New Zealand gained critical insight and connection to the presence of the Divine within. They also learned skills to incorporate spiritual and yogic principles into their often-busy lives. It was felt that Amrita Yoga is an important practice that embodies Amma's teachings. Moving forward, our aim as communities across Australia and New Zealand is to focus on integrating Amrita Yoga into our daily lives, as well as into our spiritual and extended communities, for the benefit of all. There will be opportunities for selected volunteers to complete the teacher training provided at Amma's Amritapuri ashram in India in order to extend Amrita Yoga's outreach to our local communities.
Many attendees of the programs expressed their wish for Brni Shobha to return soon, and both the Australian and New Zealand coordinators have responded by inviting her to come back and make the two countries part of her yearly worldwide tour schedule. We very much look forward to her presence again.
Brahmacharini Shobha embodies Amrita Yoga – yoga focused on awareness with heart centred intention. I was reminded that yoga is not about physical asanas but rather self-awareness. Shobha teaches with humility and joy.Her teachings have been infused into my daily life. Thank you, Shobana! – Saguna Bartley
Summary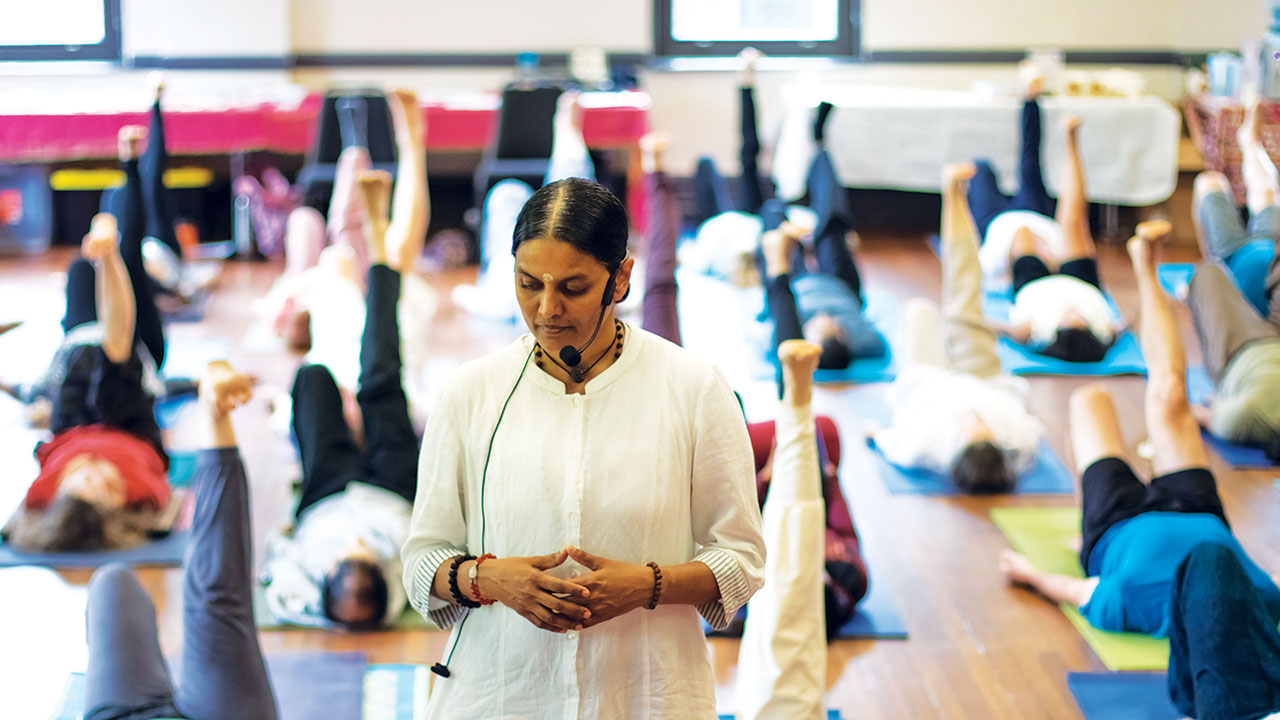 Article Name
Flower of Amrita Yoga Blooms in Australia and New Zealand
Description
Brahmacharini Shobana conducted a well-attended and highly impactful Amrita Yoga tour in Australia and New Zealand. She conducted retreats in 6 different cities during October and November, 2019. She created a specially catered class for students preparing for an exam and led a yoga event at the renowned New Zealand's Parliament House.
Author
Holi Birman, Fiona Bingham