The first Amrita Yoga Retreat for 12 to 15-year-olds was the final in a series of three consecutive retreats that started on the New Year 2016. This retreat was a smaller group of only three: 12-year-old Nityanand from Spain, 11-year-old Tapasya, also from Spain, and 15-year-old Aisha from Ireland.
The retreat comprised three sessions of yogasana, a juggling class, and an IAM session. Because of its small size, it ended up having a more personalized and informal structure catering to the specific needs and talents of each child. The asana class began with a lovely sequence to strengthen the arms in preparation for handstand, which they began in a creative manner using many variations but kicking off the wall in no time! This gave them a lot of confidence to move on to the more difficult Bakasana, rising from the floor without the help of the wall.
The class had an openness in response to the children's need for more individual and personal exploration. Some of the children used this time to express themselves freely about their concerns, and to explore asanas at their own pace. The teacher, Brahmacharini Shobha, was very intuitive about each child's specific needs and was able to give personal, one-on-one instruction.
 There was also a lot of fun juggling, and Aisha mastered it very quickly!
Although their ages were seemingly disparate, the children got along well, and the retreat was able to accommodate their various ages' needs. Nityanand was surprised to find himself enthusiastically engaged with the asanas of the other two children. Tapasya was able to explore the asanas in a new way that gave her greater understanding. Aisha held a calm and focused energy that drew in her classmates.
At the end, the children's feedback was very positive: Aisha liked the Amrita Yoga Surya Namaskarah sequence and also the juggling. Nityanand wished there had been more participants but enjoyed being able to participate at his own pace. The retreat made him want to do more yogasana.
Tapasya enjoyed all the asanas but also liked having unstructured time to play!
By Amma's grace, this retreat will continue to evolve to accommodate the right ages and interests of this wonderful age group of young people!
Summary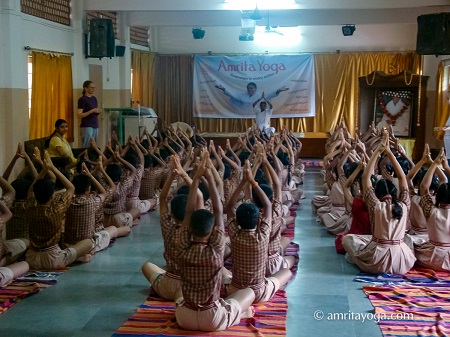 Article Name
Amrita Yoga Kid's Retreat, ages 12-15
Author