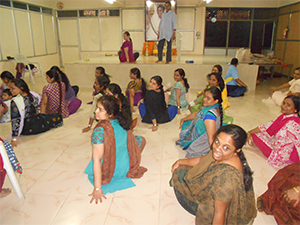 Everybody was enthusiastic about the "Initiation", an exclusive workshop for school teachers. The slogan for the workshop was "Inspire, Ignite, Innovate." The teachers didn't mind staying after school for hours until late in the afternoon for this session. They were happily chatting and having their snacks.
Amrita Vidyalayam schools are more than just educational institutions. Created with Amma's blessings and sankalpa, they have immense value in preserving culture and developing values in children, which are based on ancient Indian traditions.
In this age, when the world is changing so fast and India is getting so much influence from the west, it is very important to nurture the traditional values. The change is happening so fast that for young people it must be difficult to adjust to it, to discriminate and to keep from getting influenced by anything and everything. Children, whose minds are not prepared for this sudden change, might get confused and lost in the availability of everything. They can lose the security that they had from the old value system where such qualities as self-control and discipline were important. It's impossible to control the changes in the world, but at the same time it's important to strengthen the mind and especially the heart, as well as to develop discipline and moderation in all areas of life. Indian ancient ideals of self-sacrifice, reverence for everything and to seek happiness from within should be kept alive.
Amrita Vidyalayam schools aim to develop centeredness within each child which gives them the strength and security they need in life. The schools have a unique emphasis in its education system. Amma often says education is of two kinds: 'Education for Living' provides the platform to find ways to meet ends and have adequate wealth. 'Education for Life' provides a strong foundation by nurturing each child to understand life and what it requires to live a peaceful life.
The word "initiation" is derived from the Sanskrit root dā ("to give") plus kṣi ("to destroy") or alternately from the verb root dīkṣ ("to consecrate"). When the mind of the guru and the disciple become one, then we say that the disciple has been initiated by the guru. Initiation is a rite of marking entrance into a group or society. It could also be a formal admission to adulthood in a community. In a subtle sense it is transformation in which the initiate is 'reborn' into a new role. Both the teachers and the students have a unique opportunity for this at Amrita Vidyalayam schools. They have both the guidance and the presence from the living example of Amma.
Most of the Amrita Vidyalayam schools are headed by women, with many brahmacharinis also heading these institutions. Additionally, most of these school teachers are women. It is amazing to see Amma's approach to empower women. Amma is doing wonders in uplifting Indian women. Amma has placed the education of Indians, basically the Indian future appropriately in the hands of the women. And education should be passed on by women as they are the nurturers of culture and tradition. In Amrita Vidyalayam schools they have the power through educating children, to change the future of a nation. Indian children still have so much sweetness and innocence and it should be protected and nurtured at any cost. Amrita Vidyalayam teachers are very blessed to have this opportunity. And they are happy to fulfill this mission to serve a life for the growth of children in a value based system.
Mrs Lakshmi of Secunderabad's Amrita Vidyalayam explains: 'We will find many jobs outside, yet Amrita is unique with the presence of a guiding light and with the compassion and love that Amma and the institution carries. I sincerely yearn only to serve here at Amrita.'
The purpose of the workshop 'Initiation' was to inspire teachers to find each child´s uniqueness and ignite enthusiasm in them using innovative methods in teaching. In the session it was emphasized how each child is an individual, and how a teacher, by inspiring and encouraging a child, help him or her to find his or her unique talent.
The facilitator spoke about the process of initiating the children into Amrita Culture by narrating a story. The child arrives like a mystery box with puzzle pieces inside. Some of the pieces are broken, some are missing, and some hide. But the HEART of a teacher can sort them out and help the child to see the potential for greatness he or she has within. All that you need is the HEART.
A short meditation, Yoga Nidra, Stress Management tips, core asanas to prevent stress and chair yogasana practice were the main elements as part of the workshop.
The facilitator also remarked about the need to feel inspired. Inspirational people are not those who do not have obstacles. They are the ones who persevere, despite their obstacles. They fail yet they come back again. She brought the importance and the need of teachers at the moment. We all want to be great teachers. Great teachers create & give opportunity, the means for students to learn. This is what great teaching is all about. It is a heavy duty to be a teacher. Infuse your life experience to teach; you have something unique to bring from your perspective than anyone else.
Teachers were taught simple but useful stretching and relaxation techniques, nothing too demanding since most of them had little time to spend for themselves as a householder. For them it's best to learn a few simple techniques that won't overwhelm them. Surely everyone found this an inspirational and refreshing day.
Author: Ganapati