In July 2019, I was very much looking forward to the first 28-day silent retreat at Amritapuri. Amma initiated these retreats out of her Sankalpa (divine resolve). They are a rare opportunity to step out of the hustle and bustle of daily life and go on an inner adventure. But it was not to be. I had a severe fall in Dublin, fracturing my back, and giving myself a bad concussion.
Luckily, Amma was due in Europe in October, and I would get a chance to see her. I was longing forward to her caring back rub and a glance from those compassionate eyes. But Amma knows best and had different plans for her aching child.
I received a request from my sister, who lives in Sydney, to come and take care of her husband's 92-year-old uncle who was staying with them. She had a new job and no time. Needless to say, I turned down the offer, believing I needed to take care of myself. When the request came again, I remembered Amma's words that if someone is in need, we should serve them, forgoing our own happiness. So I decided to go.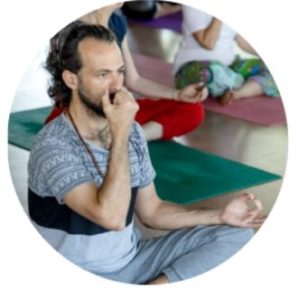 On arrival in Sydney, my sadness quickly turned to joy when I realized Amma's director of Amrita Yoga, Brni Shobana, was conducting Yoga programs, talks and silent retreats on the East Coast of Australia. What a gift!
Amma knew that my mind, body, and spirit needed healing, and this was the perfect opportunity. I have practiced yoga for 40 years or more and reaped many benefits. Amrita Yoga, however, is directly guided by Amma herself. It is a whole different level of focus. There is a shift from the perfect posture to the perfect alignment with the Divine.
The breath is the guide to awareness and higher consciousness. The asanas are performed in the style of hatha yoga but with emphasis on each inhalation and exhalation. Added to this is the chanting of mantras. The vibrations of these mantras awaken the higher Self.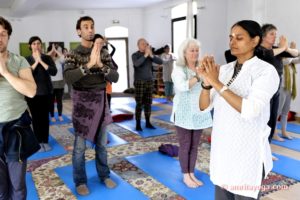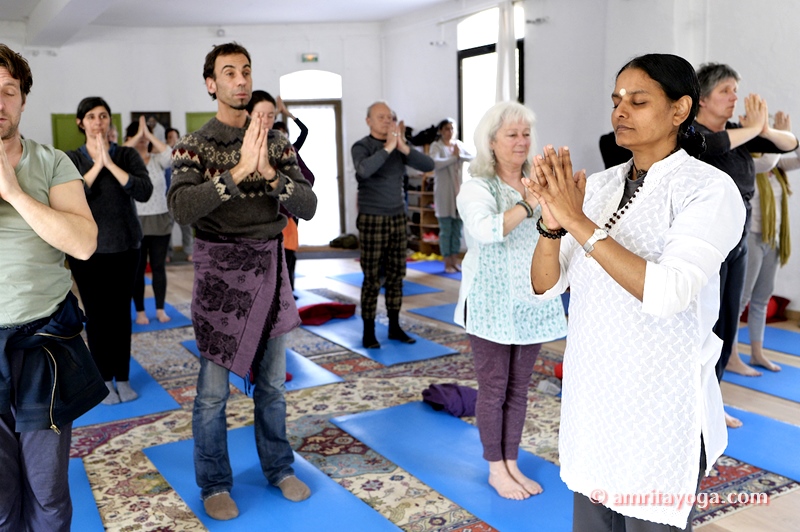 "Yoga Shobha", as Amma calls Brni Shobha, is a clear and perfect channel of Her love and inspiration. Very soon the teacher disappears from the process and the Self is revealed.
Brni Shobha, through her humour and light-heartedness, creates a loving and safe environment for negative thoughts and tendencies to just drop away. Her skill at guiding participants through yoga nidra or deep relaxation challenges the ego even to exist!
The beauty of Amrita Yoga is that it can be practiced as much by those who have never attended a yoga class as by those at teacher level. Children aged 8 to 11 enjoy the classes as much as those in their senior years. Age is no barrier – just a willingness to be fully present and breathe! When awareness through breath is practiced our bodies are safe from injury and pain.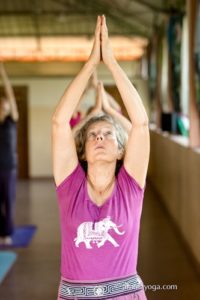 Amrita Yoga is so therapeutic that participants with serious physical ailments or challenges can benefit greatly. Yoga postures can be performed in a chair or wheelchair. This style of yoga is like giving the bodymind a complete makeover.
Brni Shobha conducts one-on-one sessions to iron out years of bad habits in yoga practice or fine tune a specific sequence.
I think what I valued most was the natural flow of the class, giving it a truly meditative quality. Brni Shobha teaches the truth, the essence of Yoga, echoing the seers and sages of the Vedas.
So much pure yoga has been lost in the West because of its emphasis on perfect posture and outer beauty.
I came back to Amritapuri with a new body, a new connection to the Self, and a resolve to go deeper into this amazing gift Amma has bestowed upon us.
Amrita Yoga is now available in the USA, Europe, Australia and New Zealand. Brni Shobha, through Amma's grace, is training chosen volunteers as teachers to spread the teachings worldwide.
My sincerest gratitude at the lotus feet of my divine Mother.
Summary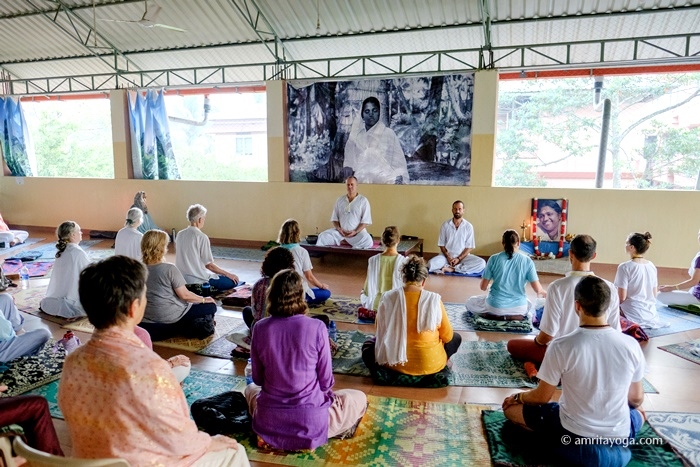 Article Name
Amrita Yoga, from perfect posture to perfect alignment with the Divine
Description
A devotee found herself at the doorsteps of an Amrita Yoga program led by Brni Shobana in Sydney, Australia. She fulfilled her deep desire to participate in a silent retreat. With over 40 years of yoga experience she realized that Amrita Yoga goes beyond perfect posture into perfect alignment with the Divine.
Author