In response to Amma's guidance to start a yoga program for students, Amrita Sanjeevani, a student seva organization of Amrita Vishwa Vidyapeetham, Amritapuri Campus, India http://www.amrita.edu/association/amritasanjeevani, started weekly Amrita Yoga classes for all students.
Every Sunday morning, Sanjeevanites jump out of the bed and head to the Sanjeevani Hall in the Engineering building for yoga. The classes are led by Brahmacharini Shobha, an Amrita Yoga instructor who has a vivacity and passion for yoga that makes the classes not only beneficial for mind, body and spirit, but an enjoyable extracurricular activity as well.
Shobha Ji emphasized that yoga for young adults is not just about being calm and collected, but is also about having a good time. Her fun twist on yoga had the students transitioning from a tranquil Surya Namaskara to an energetic and dynamic jumping exercise between the asanas.
The students have greatly appreciated this opportunity to learn Amrita Yoga. In fact, on the first day of class, the hall was so full with more than 100 participants that extra mats were needed to accommodate everyone!
Reshma Reghu, a first year B.Sc. Microbiology student, expressed her newfound excitement for yoga thus: "I was just so interested in what I was doing, I could hardly wait to get up in the morning to start class."
Summary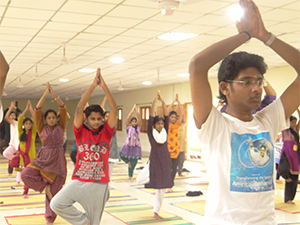 Article Name
Amrita Yoga for Sanjeevanites at Amritapuri Campus, India
Author
Brahmacharini Shobana (Yoga Shobha)