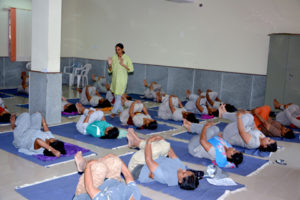 Amrita Yoga instructors came to Bharat Heavy Electricals Limited, Electronics Division, Bangalore to conduct 5-day 'Amrita Corporate Yoga & Therapeutics' workshop exclusively for women. It was the first time for Corporate Amrita Yoga in India. Working women require this Amrita Yoga practice since they have huge responsibility of working at home and at the company.
The inauguration was attended by Mr Shankar Subbu, Additional General Manager, Human Resources & Training. He welcomed the team that traveled from Amritapuri, Kerala, India, mentioning how important it was for women to feel their inherent qualities and to feel empowered to act so that they could bring a balance with home and work life. He also remarked that the society needs women to rise high so that each family would be shaped for a better future with values and strength.
There were around 25 women participants. It was a gentle and caring session with a lot of therapeutic inputs from the main instructor Brahmacharini Shobhana and also from another instructor, Gunavati. The participants were very receptive and enthusiastic; every day they were a little early for the scheduled session.
Amrita Yoga is a holistic approach to asana practice. Corporate Yoga is a great employee benefit and preventive health measure to heal, energize, improve bonding and keep employees healthy, happy and content. By realigning and rebuilding internal energy it optimizes productivity and problem-solving behavior. It clears the mind to improve decision-making. The practice is an effective antidote to stress and improves employee morale, enhances work relations, builds team-work, and increases productivity and efficiency levels.
The first day started with some partner work to show how we are all interdependent and connected. A daily practice sequence slowly built through each day inclusive of asanas that help to rid neck pain, back pain, knee pain and restoratives. Each day session also included a simple breathing and a short meditation technique.
The instructors had a special opportunity to have a tour of the factory and offered their special thanks for all the arrangements to Mr. Kalyana Sundaram, Senior Administrative Officer.
The last day valedictory function was filled with immense gratitude. The participants' shared their inputs and wanted to continue such sessions for all the 350 women at the Electronics Division of the company.
From the participants themselves
'The 5-day of 2 hours session each day is not enough. We need at least another week of practice and we enjoyed every moment spent in their presence." – Jyotsna a participant kept repeating this.
"I must admit it was one of the nicest asana & meditation sessions I have experienced. THANKS A MILLION for getting me initiated on this and it is so vital for one's well-being and really helps us empty our mind…..great way to release stress" – Sreelatha
Author: Brahmacharini Shobhana