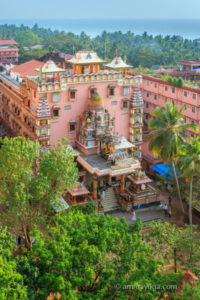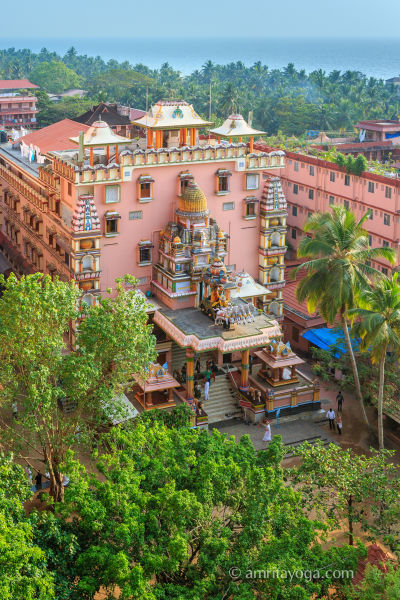 In no other place in the world can you witness the resilient nature of spiritual understanding that continues to exude from the land of India. Temples, reverence, Ayurvedic medicine, the ancient science and art of Yoga, self-realized Masters, spirituality, and beauty in all shapes and colors have originated from this diverse land. One would have lost their senses completely, not to feel the energy emanating from such a place.
Located in the small fishing village Parayakadavu on the coast of Kerala, the Amritapuri ashram (also called the Mata Amritanandamayi Math-MAM) is one hour north of the Kollam District, two and a half hours north of Trivandrum, which is the state capital and three hours south of Kochi.
The beauty of palm trees, lush backwater rivers, and beautiful beaches of the south are a stark contrast to the busy metropolises and dry, dusty desert of the northern states. There is an undercurrent of energy from the source that somehow puts everything in its appropriate position and allows your heart and mind to shift, when you are open to it.
Amritapuri Ashram is the headquarters of Mata Amritanandamayi Math (MAM), Amma's India-based spiritual and humanitarian organization, and the international headquarters of Embracing the World.
Sri Mata Amritanandamaya Devi, also known simply as Amma, is a woman who embodies what we all would like to see more in the world. At 61 years old, Amma has dedicated her life to uplifting humanity through the simplest of gestures – an embrace. In this intimate manner, Amma has blessed and consoled more than 40 million people throughout the world. Wherever Amma travels – be it India, America, or Europe – thousands flock to see her, seeking her support, suggestions, advice, spiritual vibes, and the opportunity to receive a hug from the mother's loving arms.
Amma begins around 11 am, sitting in a chair. One by one, people are allowed their moment with Amma. Amma does not move from her chair all day. She does not leave to take lunch or dinner, takes no personal time, and does not even stretch her legs so much. She just embraces person after person, sharing blessings and love again and again. No one is ever short changed. Each person gets the same attention, the same focus, and the same touch. She smiles, laughs, and even makes jokes on occasion.
Amritapuri is far more than a village. It's a living, breathing, beautiful temple filled with color and sculpture, and people of all nationalities moving happily around the sandy streets. Amritapuri is a fast growing small city and home to an international community of more than 3,500 full-time residents. Over the years, Amritapuri has evolved in order to offer maximum basic comforts for any type of person. Many elderly people and even small babies from all over the world live in Amritapuri today. Everyone is always welcome to visit, whether as a regular long-term visitor, a one-day visiting tourist, or a spiritual seeker (sadhak). Permanent residents
include monastic disciples and families from all over India and the world.
The daily schedule is fairly open, with classes you can take, lectures you can attend, morning prayers (archana), evening devotional singing (bhajana), and plenty of opportunity for meditation and introspection as well as spending time with Amma. Everyone also does daily seva, which is selfless service back to the ashram, including anything from washing buckets to serving food. The jobs are endless and essential to the survival of this well-oiled machine, which serves three meals a day to a few thousand people.
Amma stays in Amritapuri for about 4 months every year. The best times to visit are the months of August and September during which she usually stays continuously. Amma usually travels outside of India in the months of April, June, July, October and November. From early December till the end of March, she usually goes on tours inside India, staying at the ashram while not on tour. She is always at the ashram for Christmas and New Year. One should certainly check her travel schedule before planning to visit Amritapuri.
Daily, Amma leads the evening prayers and devotional singing. When Amma is at the ashram, she gives public darshans on Wednesday, Thursday, Saturday and Sunday. On Monday and Friday, she holds a meditation and a question/answer session in the afternoon. Tuesday is practiced as a meditation day for many years and Amma usually joins the meditating group late in the morning and offers the Prasad lunch to all residents.
With all of this, Amma makes no claims about who or what she is. She suggests no one religion, always accepting and promoting her message of love. She is the standard of love that we all should be striving for, and without expectation, I am humbled to have had a few moments in her presence in the very place she was born.
It was another subtle but conscious shift toward the life that I've always wanted to live, but just didn't know how. Every experience compounds on the next, providing insight needed for the next adventure. It is the best choice to give one of Amma's hugs a try, at least once in our lives.
Author: Jagannath