The 3rd International Day of Yoga (IDY) on June 21st, 2017 was a great success. IDY has a very interesting history. Let's look at the genesis and development of this international cultural celebration.
A United Nations Resolution
Indian Prime Minister Narendra Modi is promoting yoga as a way to celebrate India's rich and ancient spiritual culture. Yoga in its many forms is a beautiful expression of Indian cultural wisdom. In 2014, at his first address to the UN General Assembly, P.M. Modi proposed a resolution for an International Day of Yoga (IDY):
"Yoga is an invaluable gift of India's ancient tradition. It embodies unity of mind and body, thought and action, restraint and fulfillment, harmony between man and nature, and a holistic approach to health and well being. It is not merely an exercise. Its primary purpose is to facilitate the sense of oneness with ourselves, the world and nature. By changing our lifestyle and adopting skilled means to achieve higher states of consciousness, we take full control of our own well being. Let us work towards adopting an International Yoga Day." ~ Hon. PM Narendra Modi
September 2014, Address to the United Nations General Assembly
The IDY Resolution was adopted by the UN General Assembly on 11 December, 2014. The resolution was passed within a record time of 75 days, and was supported by 177 countries. This was the highest number of co-sponsors ever for any UNGA resolution of this nature. It was passed unopposed and without a vote.
In his UN address, P.M. Modi suggested that IDY be observed on June 21st. In 2015 this was the date of the summer solstice. This is the longest day of the year in the northern hemisphere and the shortest in the southern hemisphere. It is believed that the solstice is auspicious for spiritual practices. Lord Shiva, the first yogi, began imparting the knowledge of yoga to the rest of mankind on the first full moon after the summer solstice.
The 1st International Day of Yoga
According to the Indian government, the first IDY in 2015 was observed by 192 out of the 193 UN member nations. This included 44 Islamic countries. This supports P.M. Modi's assertion that yoga could help usher in "a new era of peace". IDY events were held at major locations globally. Many pictures were shared of large IDY yoga classes at numerous global landmarks. These included the Eiffel Tower, Times Square, the National Mall in Washington DC, London's Shard, Reforma Avenue in Mexico City, and others.
In India, the Ministry of AYUSH coordinates the propagation of natural health and wellness programs. AYUSH organized an event in New Delhi attended by 35,985 people. Attendees included P.M. Modi and dignitaries from 84 nations. This established two Guinness world records: one record for the largest yoga class, and another for the largest number of participating nationalities.
The Indian government helped organize IDY events in many other countries. Indian ambassadors and diplomats appointed local persons in the various countries as national coordinators, and helped develop IDY promotional materials. A common yoga protocol of about 30 poses and breathing exercises was created and distributed. This yoga protocol was practiced uniformly at 8 a.m. in the respective time zones. T-shirts featuring the official IDY logo were made available for thousands of IDY participants.
The IDY logo reflects the theme of harmony and peace for humanity. According to AYUSH and Indian tradition, this is the essence of yoga. The logo symbolizes the union of individual consciousness with universal consciousness. This shows the perfect harmony between mind, body and nature. This is the supremely effective, holistic approach to health and well being. A human figure sits in a yoga posture, folding both hands above the head. Brown and green leaves behind the figure symbolize earth and nature. The figure in blue symbolizes the water element and the rising sun symbolizes the source of energy and inspiration.
Amma & The 1st International Day of Yoga
On the first IDY in 2015, Amma gave a talk about the history of yoga and its many benefits. She shared eloquently how yoga helps people live in harmony. Her wise words inspired many to explore and deepen their yoga practice.
"Previously, people did not need to have a special day for performing Yoga because Yoga was part and parcel of their lives… In the olden days, people would wake up in the morning, bow down to Mother Earth and then, facing the sun, they would chant prayers and perform Surya Namaskarah. The whole time they were praying, they were exposed to the rays of the rising sun." ~Amma
International Day of Yoga, 2015, The 2nd International Day of Yoga
One year later, P.M. Modi shared similar sentiments about yoga and health. His remarks echoed Amma's comments. He said, "Poor families are having to spend too much on ill health. But there is no cost involved in being healthy. IDY is not merely an event, it inspires us to include Yoga in our daily routine."
For the 2nd IDY, the Indian government achieved greater youth participation. AYUSH organized an event titled The National Event of Mass Yoga Demonstration at Chandigarh which was attended by P.M. Modi. India's Permanent Mission to the UN organized celebrations at the UN with a special event titled Conversations with Yoga Masters – Yoga for the Achievement of the Sustainable Development Goals.
'Sustainable Development' refers to societal development that meets people's needs in the present and in the future. Seventeen 'Sustainable Development Goals' (SDGs) have been adopted by the United Nations. There were discussions about how yoga can benefit society by helping to realize these SDGs. In his address on the 2nd IDY, UN Secretary-General, Ban Ki-moon, recognized that yoga promotes harmony among people and with natural world: "This year's observance of the International Day of Yoga highlights the important role healthy living plays in the realization of the Sustainable Development Goals, adopted last year by all 193 United Nations Member States"
~ Ban Ki-moon
September 2016, United Nations Secretary-General on IDY
With so many benefits it's no wonder that the yoga industry is valued at around $80 billion globally. This is a clear testament to the value of yoga. In 2015, CNN ranked 'Yoga Instructor' in its Top 100 Careers list with big growth and great pay. It has a median pay of $62,400 and a top pay of $119,000, with a 10-year job growth of 13%. This shows how yoga supports individual yoga teachers. It also helps society with growing tax revenues generated by the fast growing industry.
The 3rd International Day of Yoga
P.M. Modi participated at the 3rd IDY 2017 event on June 21st, along with 55,000 people at Ramabai Ambedkar Maidan in Lucknow, India. India's Permanent Mission to the UN organized an event where 72 Indian students from different classes performed yoga poses. This was attended by UN Secretary General Antonio Guterres.
The theme for the 2017 IDY was 'Yoga for Health'. AYUSH sponsored several writing contests on the benefits of yoga. In his IDY 2017 talk, P.M. Modi said that yoga connects the entire world just as it connects the mind, body and soul. He suggested a commitment to:
add more new yoga practitioners every year.
convert the consciousness of yoga into a mass movement.
bring peace and prosperity to the world through yoga.
AYUSH organized month-long IDY 2017 yoga camps throughout India. At Amritapuri, through this camp, free daily yoga classes were held three times a day at the Amrita School of Ayurveda. These classes culminated on the 3rd IDY on Wednesday, June 21st, 2017. The program started at 7 a.m. and included a yoga class, yoga talks, cultural presentations, and displays of yoga poses. Attendance was high and all benefited from the excellent instruction. AYUSH organized official IDY functions at more than one city in each district of India. This means that IDY celebrations happened at over 700 places across India! Across all of India, there was no shortage of yoga classes for willing participants!
Summary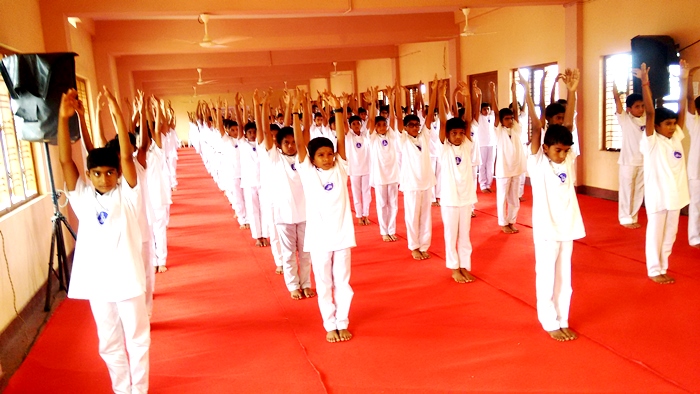 Article Name
The 3rd International Day of Yoga
Author